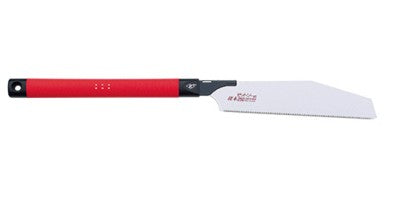 ZETSAW Hardwood Saw 250 mm No. 15069
Original price
$21.00
-
Original price
$21.00
Shipping calculated at checkout. Please click Add to cart button to proceed.
SUMMARY
Specially designed robust and sharp teeth are ideal for cutting Maple, Ebony, Mahogany, Oak, etc.
FEATURE
The blade has been developed for use with hard wood. Impact hardening is applied to the cutting edge for superior durability.

Rust-resistant electroless nickel-phosphorus plating is applied.

The handle is made of elastomer resin (synthetic rubber), so it does not slip even when held with gloves.

Aluminum is used for the core to increase strength and reduce weight.
SPECIFICATIONS
Blade Length: 250 mm
Pitch: 1.75 mm
Thickness: 0.50 mm
Kerf: 0.68 mm
Made in Japan