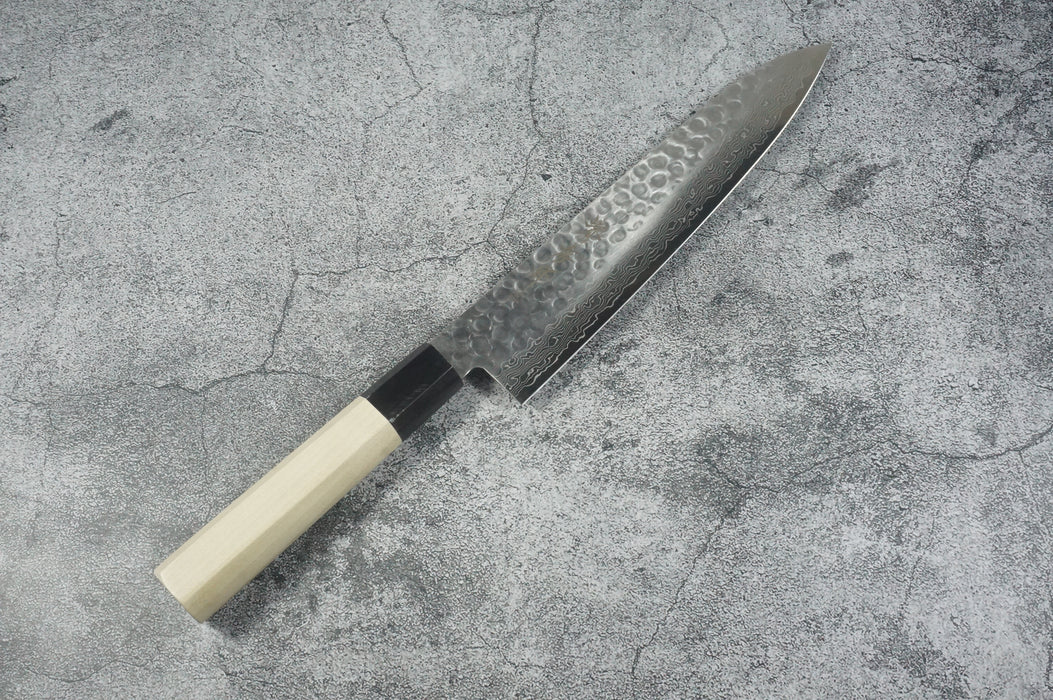 Sakai Takayuki Hammered Damascus Stainless Steel Alloy 45 Layers Gyuto Knife 210mm 07255
Original price
$121.00
-
Original price
$121.00
Shipping calculated at checkout. Please click Add to cart button to proceed.
Sakai Cutlery has a history of 600 years. Sakai's knives, produced by craftsmen with solid skills, are of the highest quality and sharpness, and are now well known not only in Japan but also in the U.S. and Europe.
This is a kitchen knife that combines beauty and sharpness, with rust-resistant and sharp stainless special steel sandwiched between 45 layers of beautiful and fine stainless Damascus steel. The unique pattern of Damascus steel and the pattern made by tapping the steel make the whole image of the knife look more attractive. The handle is a Japanese style handle. It is double-edged, so left-handed people can also use it safely.
FEATURE 
・45-layer hammered Damascus steel.
・This Japanese-style handle knife is made of rust-resistant stainless special steel interrupted by 45 layers of hammered Damascus steel.
・This knife is perfect for home use, for slightly larger people, and for people who often cut meat.
・This knife can be used for various cooking situations such as meat, vegetables, and bread.
SPECIFICATION
・Inscription: Sakai Takayuki
・Handle: Park hexagonal half round
・Steel type: AUS10 stain-resistant steel.
・Blade type: double-edged.
・Blade length: 210 mm.
・Package Weight: 200 g