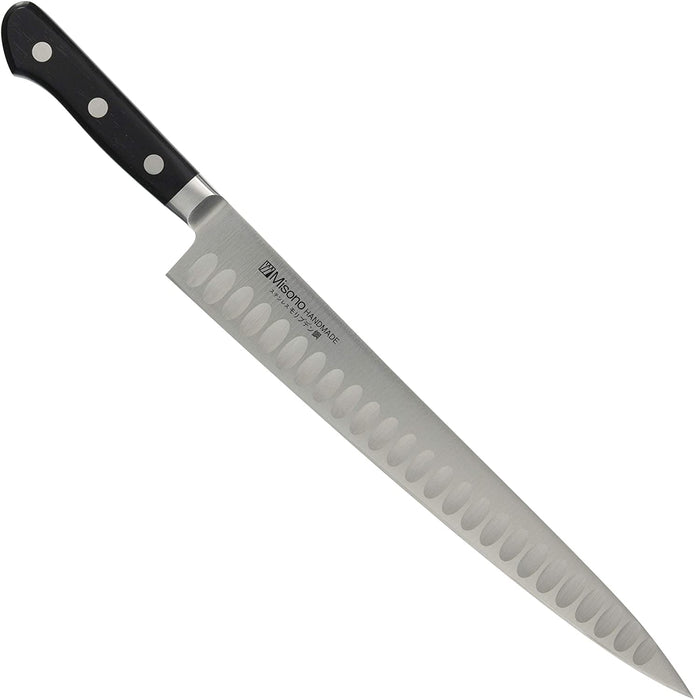 Misono Molybdenum Steel Salmon Slicer
SKU
Misono-MBD-Salmon-Slicer-240
Original price
$241.00
-
Original price
$480.00
Shipping calculated at checkout. Please click Add to cart button to proceed.
Misono is the leading Japanese kitchen knife company in Seki-city, a Japanese sword-making capital with over 800 years of blade smithing history and traditions. Using high quality Swedish stainless steel, Misono combined their traditional technology  with new technology to create this ultimate line stainless steel chef's knives. Many people might think that a full-fledged kitchen knife is heavy. The most characteristic feature of the Misono kitchen knife is its lightness. Not only is it light, but the overall balance is also great, and it is easy to control.
The features of the Misono molybdenum series are that it is made of molybdenum steel, has a long sharpness, and is easy to sharpen. It has excellent maintainability and is easy to use at home. The affordable price range is also attractive. It is a popular series with a good balance of price, sharpness and maintainability.
Salmon knives are used to slice, fillet and remove the skin from large fish. Salmon knives are slim and sharp to allow for precise filleting and skin removall. Many salmon knives also have dimpling or indentations along the surface of the blade, which reduces drag during cutting and helps to stop the raw fish from sticking to the metal.
Specifications of Misono No.529 Slicer 270 mm
| | |
| --- | --- |
| Model | Misono No.529 |
| Knife type | Slicer, Salmon type |
| Blade | Double edged blade |
| Steel | Molybdenum Steel (stain-resistant) |
| Handle | Ply wood |
| Blade length | 270 mm |
| Full length | 390 mm |
| Weight | 170 g |